Deciding to sell your home?
---
It probably goes without saying that the first step in the home selling process is making the decision to sell. For some this decision will be difficult and emotional. For others the decision will come quite readily. There are a plethora of reasons that spark the idea of selling in a homeowner's mind. What I've found in my practice, however, is that by the time a homeowner contacts me to sell their home, they have already made the decision to sell; provided they can achieve their goals through the selling process.
One thing is absolutely certain, if you are considering moving you are not alone! According to the U.S. Census Bureau since the 1990s more than 40 million Americans a year decide to move. What's more, approximately one third of these folks move across the county or state line. According to a recent study by moving giant Bekin, 70 percent of all residential moves are within the same county. In our area, thousands of sellers successfully SOLD their home last year alone; that number has been fairly consistent for several years.
Making the Decision
According to Inman News, the three most common reasons for selling are 1) family-related, 2) work-related and 3) housing related. If a homeowner receives a job transfer, gets a new job or simply finds the daily commute unbearable, he/she will often make the decision to sell and purchase a property closer to his or her workplace. Other common reasons for relocating include 1) being closer to church or family, 2) the desire to live in a different city or a better part of town, 3) better home amenities, 4) a growing (or shrinking) family, 5) personal hardship, 6) getting the kids into a better school system or 7) simply the desire to upsize or downsize.
For those facing a hardship; the most common hardships include:
1. Loss of income
2. Increased expenses
3. Medical problems
4. Divorce/Absolved relationship
5. Death in the family
Emotional Challenges
In my real estate practice I have observed that most homeowners greatly underestimate the emotional challenges involved in the selling process (especially if you are selling out of need versus desire). In fact, compared to buying a home, selling can be a downright emotionally draining process. For those selling out of necessity or hardship the emotional toll can be even greater.
The emotional challenges to selling are many. First you have to get your home ready to sell. Doing small fixes that you never got around to and spending money on a home you will no longer own can be a drag. Then you have to deal with the whole selling process - working with an agent, setting the price, having your home 'show-ready' at all times, negotiating the sale, etc. And to top it all off, you still have to pack up your entire house and relocate your family. Whew! Having second thoughts?
I firmly believe that in order for you to avoid disappointment during the selling process we must set the right expectations. Just like an athlete preparing for a marathon, you must be mentally prepared for the challenges that lie ahead. Selling your home is a life event. Trust me; by preparing yourself mentally, you will arrive on the other side a much better person.
My real estate practice is big on using the right systems and partnering with the right people. Therefore my job is to make my client's journey through the selling process as painless and stress-free as possible.
In my real estate practice my number one job is to educate my clients.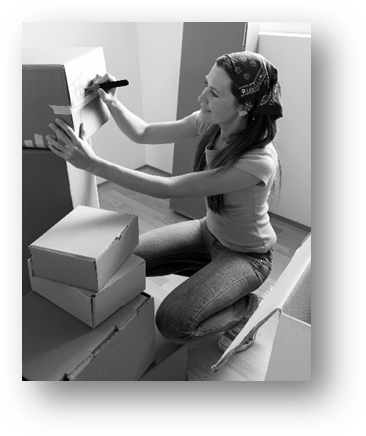 Over the years I have come to realize that most folks are sane and rational. Thus, if I can provide them with the right information, they can make the right decisions for their family. Therefore I don't spend time trying to convince my clients to sell. Armed with the right information my clients know whether it is in their best interest to sell now, wait, or in some cases, to abandon the idea of selling completely.
For me, it is always most helpful to understand my client's motivation for selling, and to educate them on the selling process (what I do to successfully sell homes), and let them make an informed decision with zero pressure.
Five Tips to Mentally Prepare for Selling Your Home
As the old proverb goes, "Hope for the best and prepare for the worst". Here are five tips that I share with my clients. These are strategies that I have personally found helpful to me when I am mentally preparing for a challenge.
? Be Positive - Yep, this can be tough to do if you are selling out of necessity; however it is imperative that you remain positive. Read inspirational books, attend church and prayer meetings and help others who are less fortunate than you. Be conscious of the negative thoughts that enter your mind and quickly dispel them. Maybe you can even give up watching the news during the selling process!
? Get a coach - Confide in a mentor or close personal friend (with a level head). Spend a few minutes a week discussing your thoughts and feelings. In my real estate practice, I can help coach you throughout the process.
? Visualize the final outcome - If you are moving by choice, spend some time seeing yourself and your family in your next home (after the dust has settled). If you are moving out of necessity, realize that there is light at the end of the tunnel and see yourself in that better light (living within your financial means, future opportunities, etc).
? Prayer and meditation - Studies have found that prayer and meditation are very beneficial when facing a stressful decision. Try spending 15 to 30 minutes in prayer and/or meditation each day.
? Journal - Getting your thoughts out of your head and down on paper, is a very freeing exercise. This will come as no challenge to you if you are constantly journaling. Others may find it easier to record their thoughts using a smart phone app or other device. Even if you simply voice your thoughts (speaking them aloud), it will help (sounds weird right?). Ask yourself questions like "what do I enjoy or not enjoy about this process?" or "what do I expect for the future in what I am doing now?"
Well… if you are ready to begin your home selling journey, let's begin!
After selling numerous homes, I have observed that the three most important factors to selling your home are:
Marketing

Price

Condition
I will work with you to ensure that we have all of these key elements going for us in order to get your home SOLD in the least amount of time for the highest price.
For more information about selling your home and tips such as this one - request our FREE Ultimate Guide to Selling Your Home! Visit - www.samsellsthelehighvalley.com/sell for more information.